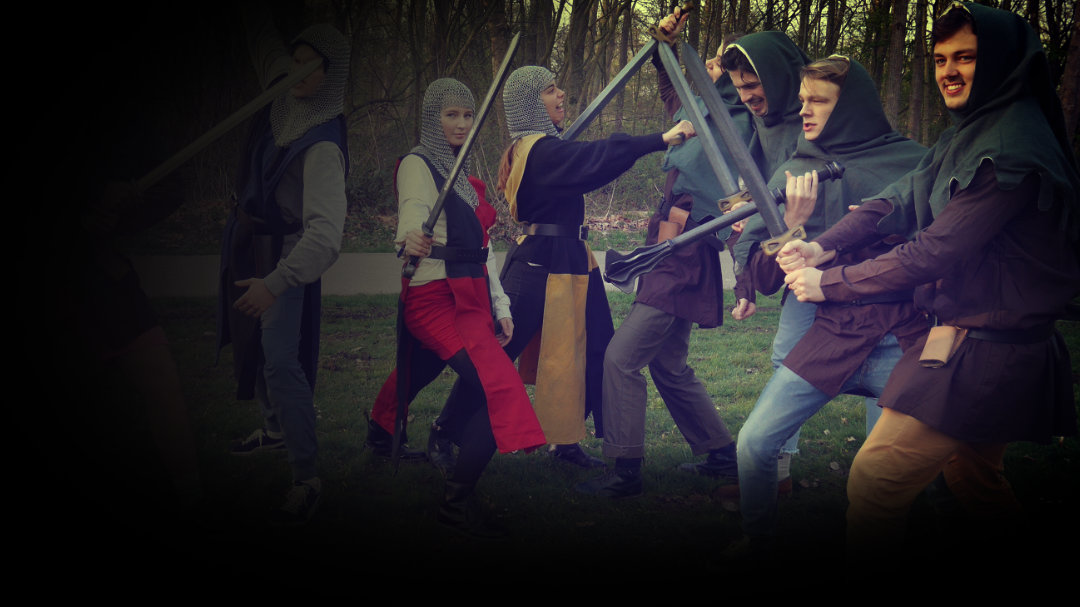 Larpen 'Light': Nottingham vs. Sherwood
Sword Tag: Wat
Sword Tag is een variant op het populaire Archery Tag. Maar in plaats van pijl en boog wordt er bij Sword Tag gebruik gemaakt van Larp zwaarden, bijlen en strijdknotsen. Met deze zachte schuimwapens, die er realistisch uitzien, kun je elkaar op een veilige manier te lijf gaan.
Sword Tag: Nottingham vs. Sherwood is een soort Larpen 'Light': beleef de Larp-gevechten, zonder het rollenspel. Voor de sfeer draag je een kostuum om je in de wereld van Robin Hood te verplaatsen.
Strijd in teams tegen elkaar en pak die overwinning!
Nottingham vs. Sherwood
De soldaten van Nottingham zijn die schurken uit het Sherwood Forest op het spoor. Komt het nu aan op een ordinaire confrontatie? Man tegen man, vrouw tegen vrouw? Of wordt het toch een elegant toernooi, waar dapper wordt gestreden voor de hoogste eer?
Gelukkig, er is gekozen voor het 'Troll ball' toernooi! Maar of dit nu een 'elegante' en 'eervolle' oplossing is…?
Sword Tag: Hoe
Workshop zwaardvechten
Omkleden en uitreiken veilige wapens
De vier basisslagen: verdedigen en aanvallen
Sparren in tweetallen
Troll Ball toernooi
Vormen teams (4-5 deelnemers per team)
Wedstrijden van 5-10 minuten
Prijsuitreiking
Landgoed Zonheuvel, Doorn of jouw eigen locatie
Also available in English
Archery/Battle Tag
Probeer ook eens Archery Tag, met Larp pijlen in plaats van Larp zwaarden en bijlen. Of combineer Archery Tag en Sword Tag in het epische Battle Tag.
Geschikt als
teambuilding activiteit,
vrijgezellenfeest,
verjaardagsactiviteit of
vriendenuitje
Standaard
19,50 p.p.
inclusief
Begeleiding en Kostuums/Spelattributen
Outdoor
28,50 p.p.
Standaard +
Voor het landhuis op Landgoed Zonheuvel, Doorn
Outdoor Lunch
47,50 p.p.
Outdoor +
Lunchbuffet en
koffie/thee
Outdoor Diner
65 p.p.
Outdoor +
BBQ of
3-gangendiner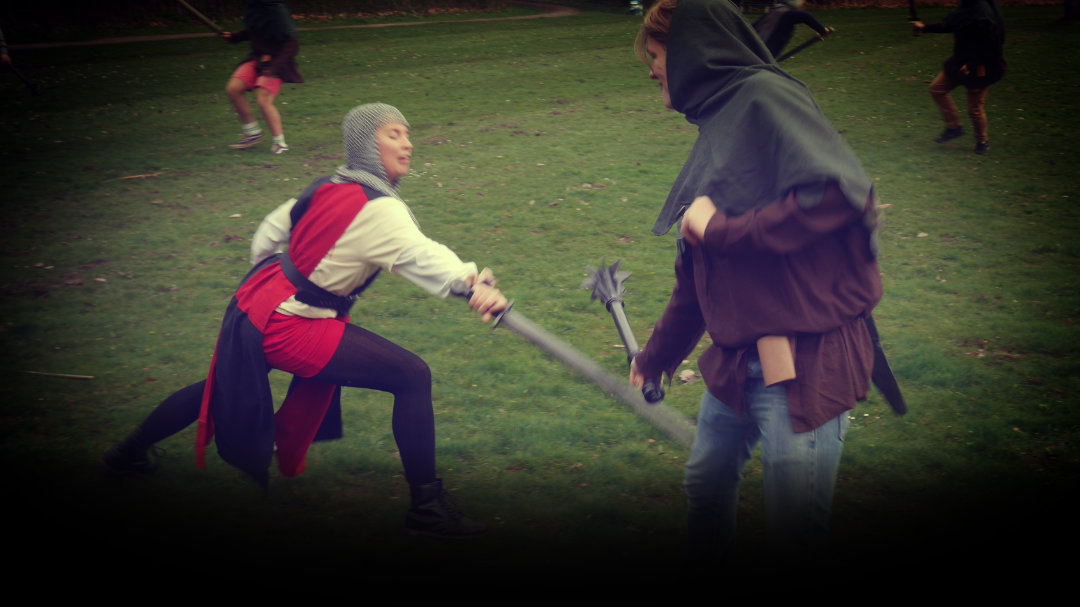 Sword Tag: Wie
Iedereen (ouder dan 16 jaar) kan meedoen aan deze game.
Spelregels 'Troll Ball'
Troll Ball is een wedstrijd tussen twee teams van 4 à 5 personen met zwaarden, strijdknotsen of bijlen.
Elk team heeft een emmer
De scheidsrechter brengt een trollenhoofd in het spel
Het team dat het vaakst dat hoofd in de emmer van de tegenstander weet te krijgen, wint de wedstrijd
Tegenstanders mogen worden tegengehouden met behulp van de wapens
Er mag niet met het trollenhoofd worden geschopt
Tegenstanders bijten is niet toegestaan!
De scheidsrechter heeft altijd gelijk
Voor de rest zijn er geen regels. Gewonde spelers gaan aan de kant, waar ze worden opgelapt door de dienstdoende chirurgijn. Daarna nemen ze weer met frisse energie deel aan de wedstrijd.
Praktisch
Sword Tag is een game, die plaatsvindt in een bosrijke omgeving. Het spel vindt in dat geval in principe altijd doorgang, ook als het regent. In dat geval wordt voor transparante regenponcho's gezorgd die over het kostuum kunnen worden aangetrokken.
Onze locatie
Standaard vindt de game plaats op het grasveld voor het landhuis van Landgoed Zonheuvel te Doorn.
Het terrein voor het spelen van de workshop zwaardvechten, van Sword Tag, is makkelijk bereikbaar vanuit Utrecht, Maarn, Doorn, Leersum, Amerongen, Veenendaal, Amersfoort en Zeist.
Jouw eigen locatie
Wij kunnen Sword Tag: Nottingham vs. Sherwood ook bij jou in de buurt organiseren. Dit gaat in overleg. Sword Tag kan als indoor game worden gespeeld. Zo kun je Sword Tag spelen in Utrecht, Amsterdam, Noord-Holland, Zuid-Holland, Gelderland, Limburg, Noord-Brabant of zelfs Ardennen.
Reviews
Bedankt nog voor de geweldige workshop larpen 'light'! Ik vond het echt geweldig en andere mensen die ik later nog sprak ook.