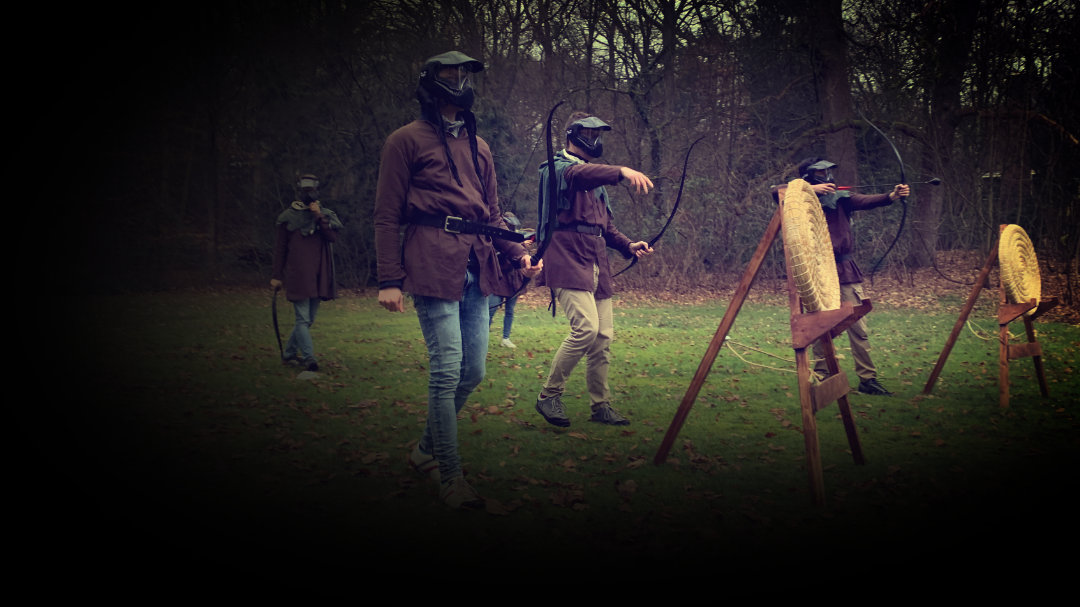 Larpen 'Light': Sherwood vs. Nottingham
Archery Tag: Wat
Archery Tag, ook wel Arrow Battle of Arrow Tag genoemd, is een bijzondere workshop boogschieten. Jaag op je tegenstander met pijl en boog! We gebruiken hiervoor speciale Larp-pijlen. Deze pijlen hebben een zachte schuimpunt en (onder voorwaarden) veilig te schieten op elkaar.
Archery Tag: Sherwood vs. Nottingham is een soort Larpen 'Light': beleef de Larp-gevechten, zonder het rollenspel. Voor de sfeer draag je een kostuum om je in de wereld van Robin Hood te verplaatsen.
Strijd in teams tegen elkaar en pak die overwinning!
Sherwood vs. Nottingham
De vrijbuiters uit Sherwood Forest zijn de soldaten van Nottingham op het spoor. De Sheriff van Nottingham heeft zojuist weer belastingen geint. Aan de vrijbuiters om die schat af te nemen en te verdelen onder de (beide) armen. Maar pas op: onder de soldaten zitten eveneens uitstekende boogschutters…
Archery Tag: Hoe
Workshop boogschieten
Uitreiken kostuum, masker, pijlen en boog
Boogschietles in 10 stappen
Oefenen boogschieten op een doel
Oefenen boogschieten op elkaar
Challengers toernooi
Vormen teams (4-6 deelnemers per team)
Verschillende soorten wedstrijden van 5-10 minuten
Landgoed Zonheuvel, Doorn  of jouw eigen locatie
Also available in English
Sword/ Battle Tag
Probeer ook eens Sword Tag, nu met Larp zwaarden en bijlen in plaats van Larp pijlen. Of combineer Archery Tag en Sword Tag in het epische Battle Tag.
Geschikt als
teambuilding activiteit,
vrijgezellenfeest,
verjaardagsactiviteit of
vriendenuitje
Standaard
21,50 p.p.
inclusief
Begeleiding en Kostuums/Spelattributen
Outdoor
29,50 p.p.
Standaard +
Voor het landhuis op Landgoed Zonheuvel, Doorn
Outdoor Lunch
54,50 p.p.
Outdoor +
Lunchbuffet en
koffie/thee
Outdoor Diner
70 p.p.
Outdoor +
BBQ of
3-gangendiner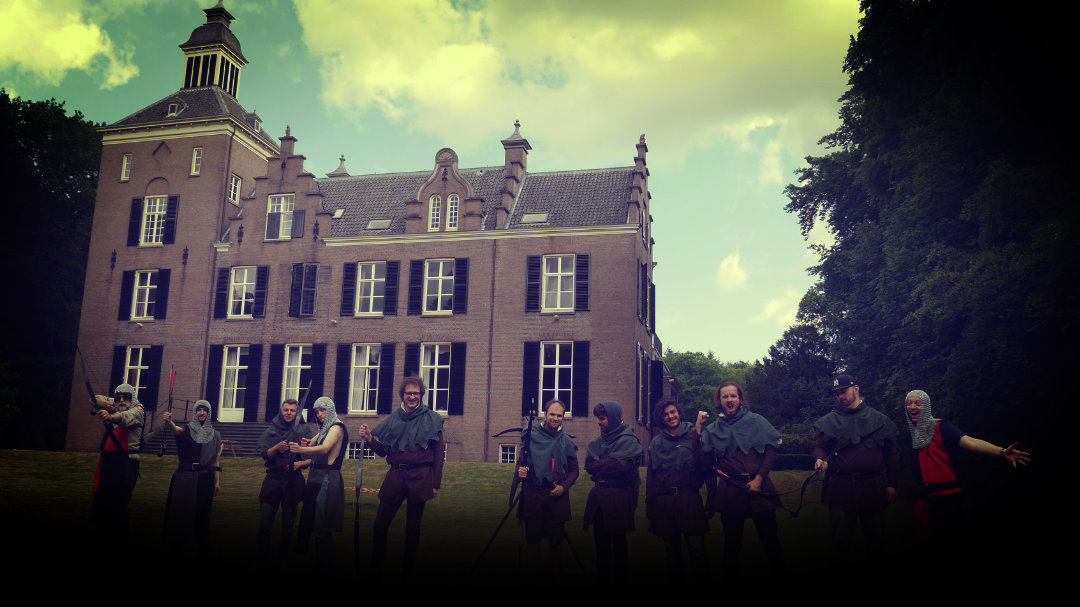 Archery Tag: Wie
Iedereen (ouder dan 16 jaar) kan meedoen aan deze game.
Praktisch
Archery Tag is een outdoor game, die plaatsvindt in een bosrijke omgeving. Het spel vindt in dat geval in principe altijd doorgang, ook als het regent. In dat geval wordt voor transparante regenponcho's gezorgd die over het kostuum kunnen worden aangetrokken.
Onze locatie
Standaard vindt de game plaats op het grasveld voor het landhuis van Landgoed Zonheuvel te Doorn.
Het terrein voor het spelen van de workshop boogschieten, van Archery Tag, is makkelijk bereikbaar vanuit Utrecht, Maarn, Doorn, Leersum, Amerongen, Veenendaal, Amersfoort en Zeist.
Jouw eigen locatie
Wij kunnen Archery Tag: Sherwood vs. Nottingham ook bij jou in de buurt organiseren. Dit gaat in overleg. Archery Tag kan als indoor game worden gespeeld. Zo kun je Archery Tag spelen in Utrecht, Amsterdam, Noord-Holland, Zuid-Holland, Gelderland, Limburg, Noord-Brabant of zelfs Ardennen.
Reviews
We hebben archery tag gedaan als vrijgezellenfeestactiviteit en we vonden dit allemaal super leuk! Het enthousiasme van Carel en alle middeleeuwse kleding en attributen maakten de ervaring helemaal compleet!