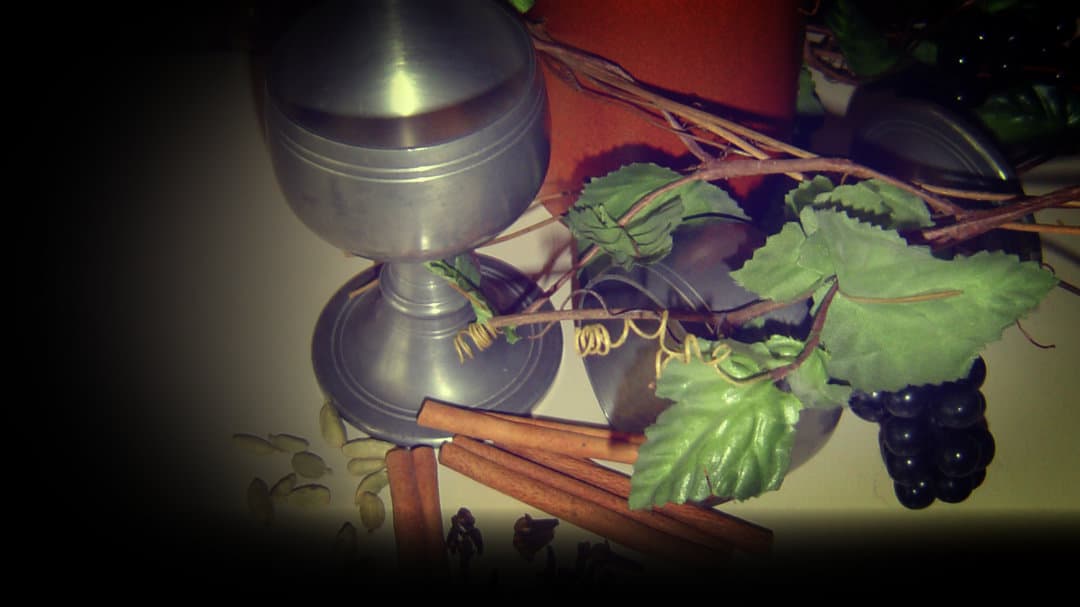 Wat is een Larp zonder Hypocras?
Recept Hypocras, mede en Ridderlimonade
Hypocras (ook wel hipocras, hippocras of 'mulled wine' genaamd) is een kruidenwijn die prima koud en eventueel warm gedronken kan worden.
Omdat in de Middeleeuwen de kwaliteit van de wijn meestal niet zo best was, werd deze met behulp van kruiden en honing op smaak gebracht. Hypocras heeft qua smaak wat weg van 'glühwein' vanwege de kaneel, maar daar houdt de vergelijking wel een beetje op.
Natuurlijk kan Hypocras, naast mede en bier, niet ontbreken op een Larp!
Recept hypocras
Tijdens de Larp Fantasy Heroes loop je het risico dat je een 'gnome' treft die dit drankje met je wilt delen. Mocht je zelf hypocras willen maken, dan kan dat. Het recept is eenvoudig:
1 fles

goedkope, zware rode wijn,zoals een Bordeaux, Zuid Afrikaan of Spaanse Navarra of
goedkope, stevig droge witte wijn of
goedkope alcohol vrije rode wijn (voor een alcoholvrije variant)

6 kruidnagels
6 groene kardemom pitjes
20 gram kaneelstokjes
40 gram fijngehakte gemberbolletjes of bakgember
80 gram rietsuiker
enkele druppels rozenessence
Doe alles in een glazen karaf en meng tot de rietsuiker ongeveer is opgelost. Dek de karaf af met aluminiumfolie. Roer dit mengsel iedere dag. Laat dit 2 tot 3 dagen trekken. Leg een schone stoffen zakdoek in een zeef, trechter of vergiet en giet de Hypocras hier doorheen. Bewaar in een luchtdichte fles.
Drink smakelijk en geniet met mate!
Mede/Honingwijn
Een andere typische drank die wordt gedronken op Larps (naast bier) is mede. Mede is gefermenteerde honing. Zelf maken is een ding, zeker lekkere mede want er kan nogal wat mislukken in het proces. Ook moet je veel geduld hebben (tot wel een jaar geduld). Vandaar dat je mede aan de specialisten overlaat.
Kijk hier voor het aanbod van mede.
Ridderlimonade
Neem een lege glazen of stenen fles met een beugelsluiting. Pers een halve limoen en doe het sap in de fles. Vul aan met honing naar smaak. Een knijpfles honing werkt in dit geval het makkelijkst. Vul de fles voor een vijfde deel met warm water. Sluit de fles en schud net zo lang tot de honing is opgelost. Vul aan met koud water en laat eventueel terugkoelen in de koelkast.
Drink smakelijk en geniet met je maten!